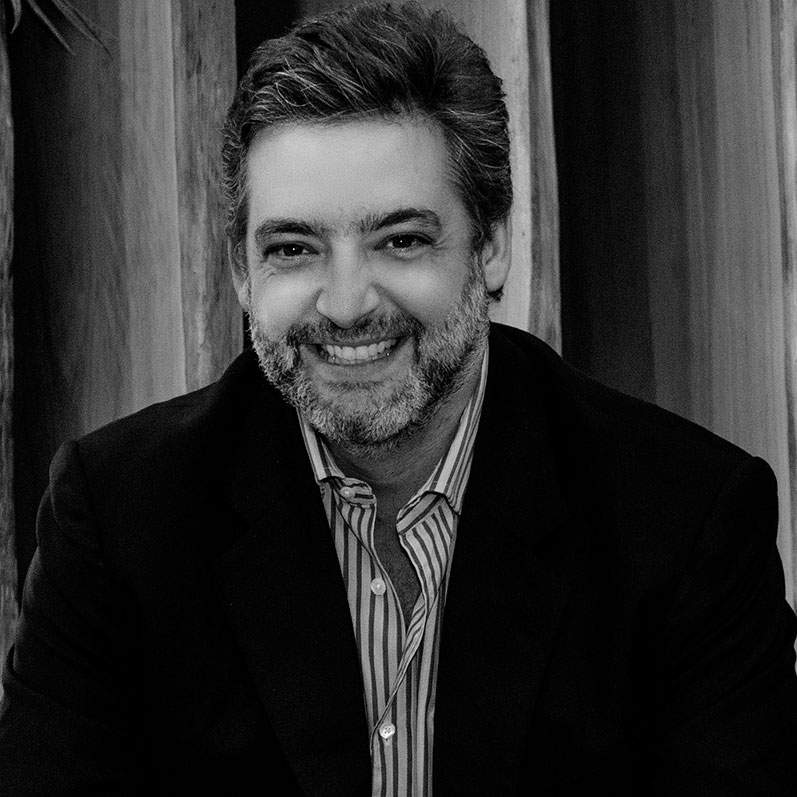 Cristiano Valle: The Designer of Nature
Cristiano Valle was born in 1975 in São Paulo, the capital city of Brazil. At the age of 19, he found himself torn between pursuing architecture or agronomy. He eventually graduated as an agronomic engineer from Esalq-USP, one of the country's most prestigious colleges.
During his childhood, he traveled through the Brazilian countryside and enjoyed connecting with nature. He used to explore the forest on his great-grandfather's farm, Olavo Ferraz, who was the visionary behind one of the first private forest reserves, becoming an avid lover of fauna and flora. His grandfather's last wish was fulfilled when he managed to expropriate the reserve, transforming it into a Public Ecological Station, ensuring the perpetual preservation of that forest.
Even as an agronomist, Cristiano maintained his passion for drawing. A few years after graduating, he moved to a farm deep within the Amazon rainforest. Encouraged by his mother, he began observing the wood around him and appreciating the beauty of the untouched natural forms. This connection inspired him to create furniture and decorative objects. "Initially, when I collected hollow and hole-ridden pieces of wood, people thought I was crazy because, at that time, those pieces were seen as trash," Valle explains. 
In 2003, he established Tora Brasil in São Paulo, a company specializing in producing furniture from Amazonian wood. Initially, his pieces were sold in a small garage in Vila Madalena. In less than two years, the company's growth led to a move to a larger space, a showroom in Pinheiros. The new factory was established in Vinhedo, near São Paulo's capital. 
Since then, Valle has been designing luxurious, enduring wooden articles with original designs that are elevated to the status of artwork. In these creations, solid wood is juxtaposed with glass, acrylics, or metals to form center tables, dining tables, sideboards, and benches. The pieces are characterized by their unique textures and forms, making them exclusive items. 
His creations take into account the imperfections of natural materials; in other words, the designer respects the wood's grain, contours, weathering marks, and knots, intentionally showcasing and integrating them into the pieces' designs. To source the raw materials, Cristiano Valle travels to the northern regions of Brazil three to four times a year, visiting
various forest management areas for inspiration. "Each wood serves a specific piece of furniture. Every trip to the Amazon is a unique treasure hunt, although there are also instances where we design pieces first and then look for the perfect log to produce them," Valle reveals. 
Adhering to the sustainability tripod of people, planet, and business, Valle made the decision to follow this path from the outset. In 2007, he obtained FSC (Forest Stewardship Council) certification, which attests that the furniture bearing this seal is crafted from woods sourced in forest management areas following principles of minimal impact and high social value.
The aim is to establish a harmonious system between humanity and the environment, enabling the enjoyment of natural resources in a manner that allows the forest to flourish, preserving its fauna and flora, while also promoting human development in the region by generating jobs and income. 
"The best way to preserve a forest is to make society recognize its value and development, and encourage the support and acquisition of certified products, thus strengthening this chain," explains Valle. According to him, the treasures unearthed in nature find their way into the daily lives of thousands of homes spread across the world, carrying with them a piece of
Brazil's treasure. 
He has exhibited his work internationally, including at CASACOR Stockholm in Sweden, Maison et Objet in France, iSalone in Milan, and ICFF (International Contemporary Furniture Fair) in New York. The products he has designed for Tora Brasil can be found in several of the major addresses in Brazil and around the world.